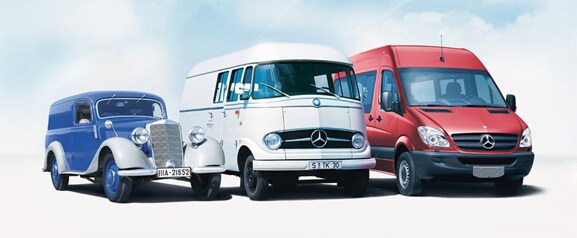 100 Years of
Technical Innovations

Mercedes-Benz has always been synonymous with innovative technology, safety, quality, comfort and longevity. The world's largest commercial vehicle manufacturer offers an impressive product designed to meet your needs, to help ensure the success of your business.

   Value Beyond Expectation

-powerful and efficient turbocharged V6 CDI diesel engine

-extremely spacious, comfortable and low noise interior

-outstanding handling and performance

-high resale value
                                -low cost of ownership                               
-complete packages tailored to your exact needs

                                -over 20 colors available
For more than 100 years, Mercedes-Benz has been a leader in the automotive world, and you can see their decades of experience in every vehicle they produce. Our Rhode Island Sprinter dealership is home to the finest lineup of commercial vans and vehicles on the market, which is why we've become the first stop for discerning business owners in RI and MA.

With powerful yet efficient turbocharged diesel engines, smartly designed interiors that offer a wide range of cargo solutions and a chassis that can keep pace with your rigorous schedule, the Sprinter commercial vehicle lineup is second to none.
If you're looking for a great new commercial van in Rhode Island, browse our inventory of Sprinter Vans, Cab Chassis, Passenger Vans and MiniBus vehicles today. You'll be glad you did.