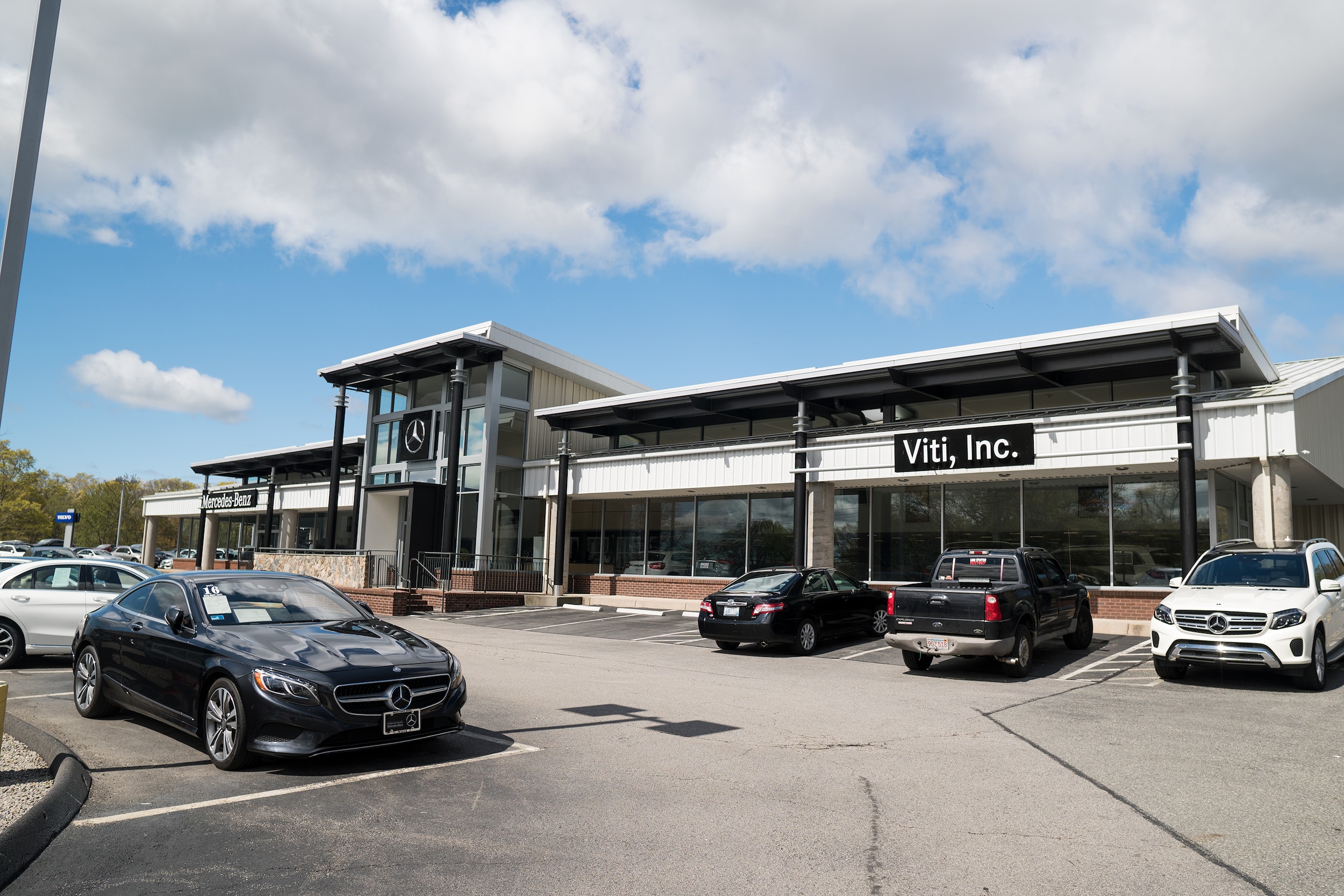 At Viti, we want to make the process of buying a Mercedes-Benz exciting and fun. That's why we strive to provide a low-pressure environment that invites our Rhode Island and Massachusetts Mercedes-Benz customers to explore the many vehicles we have on hand and decide what's best for their lifestyle. We're here to support you in the buying process, answering all your questions and ensuring you have the facts you need to make an educated decision. That's why more drivers come to our Rhode Island Mercedes-Benz dealership for their motoring needs.

We carry a wide variety of new and pre-owned Mercedes-Benz vehicles that give our Rhode Island Mercedes-Benz customers the selection they need. Our Mercedes-Benz dealership in Tiverton,RI features vehicles like the all-new Mercedes-Benz CLA, C-Class, E-Class, GLB, A-Class and more in the most popular colors and trim levels, making us your first-stop shop. We also have an extensive selection of Certified Pre-Owned Mercedes-Benz vehicles for sale.

When it comes time for Mercedes-Benz service, you can count on us to get you back out on the road without delay. Our Mercedes-Benz service center near Providence can handle any job big or small, and our trained technicians will describe any necessary repairs in layman's terms. There's no smoke and mirrors, just a transparent experience that has earned us a great reputation with Massachusetts and Rhode Island Mercedes-Benz owners.

Please visit our Mercedes-Benz dealership today and let us show you why Viti is the Rhode Island Mercedes-Benz dealer you'll keep coming back to! And, don't forget to ask about the Viti Advantage!

 

Superior performance, exquisite style, and cutting-edge technology are what you expect from a Mercedes-Benz. World-class service, professionalism, and customer satisfaction are what you deserve from a Mercedes-Benz dealership.

For us, your purchase marks the beginning of our relationship, not the end of it. It is one we intend to strengthen and grow by a distinct advantage, the Viti Advantage. With the Viti Advantage, when you need service, one of our 40 valet drivers will bring you one of our 150 available loaner vehicles, anytime,  anywhere, no questions asked. Once your car is fully serviced at our dealership, we'll deliver it back to you with a professional wash and vacuum.

The Viti Advantage offers the best-in-class customer service and convenience you deserve.  And, it's available to you anytime, anywhere.

Store Hours
Monday

7:00 am-7:00 pm

Tuesday

7:00 am-7:00 pm

Wednesday

7:00 am-7:00 pm

Thursday

7:00 am-7:00 pm

Friday

7:00 am-6:00 pm

Saturday

9:00 am-5:00 pm

Sunday

Closed
See All Department Hours
Store
Monday

7:00 am-7:00 pm

Tuesday

7:00 am-7:00 pm

Wednesday

7:00 am-7:00 pm

Thursday

7:00 am-7:00 pm

Friday

7:00 am-6:00 pm

Saturday

9:00 am-5:00 pm

Sunday

Closed
Showroom Hours
Monday

8:30 am-7:00 pm

Tuesday

8:30 am-7:00 pm

Wednesday

8:30 am-7:00 pm

Thursday

8:30 am-7:00 pm

Friday

8:30 am-6:00 pm

Saturday

9:00 am-5:00 pm

Sunday

Closed
Parts Dept. Hours
Monday

7:30 am - 5:30 pm

Tuesday

7:30 am - 5:30 pm

Wednesday

7:30 am - 5:30 pm

Thursday

7:30 am - 5:30 pm

Friday

7:30 am - 5:30 pm

Saturday

9:00 am - 1:00pm

Sunday

Closed
Service Dept. Hours
Monday

7:00 am - 5:30 pm

Tuesday

7:00 am - 5:30 pm

Wednesday

7:00 am - 5:30 pm

Thursday

7:00 am - 5:30 pm

Friday

7:00 am - 5:30 pm

Saturday

9:00 am - 3:00 pm

Sunday

Closed
Directions
Get Directions